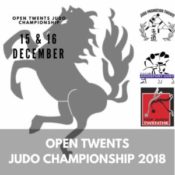 Welcome
Ippontime.nl Open Twents 2019
Top Judo Twente in association with Judo Promotion Twente and Stichting Judosport Oost are organizing the 2nd Open Twents Judo Championship on Saturday December 14th and Sunday December 15th , 2019.

On Monday December 16th and Tuesday December 17th 2019 the Ippontime Training Camp will be held.
More information soon!!
News
MarcoH
Invitations to attend the Open Twents Judo Championship 2018 have been sent to foreign judo clubs via email. Full details of the tournament can be found on this website.