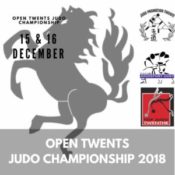 Welcome
Open Twents Judochampionship 2018
Top Judo Twente in association with Judo Promotion Twente and Stichting Judosport Oost are organizing the 1st Open Twents Judo Championship on Saturday December 15th and Sunday December 16th , 2018.

Registration is open for any male or female judokas at the age of 8 years and older who are member of any judo club that has a membership with the Dutch judo association(JBN) or any international judo federation.
Download the invitation form
News
MarcoH
Invitations to attend the Open Twents Judo Championship 2018 have been sent to foreign judo clubs via email. Full details of the tournament can be found on this website.